THE THREAD: GOING SOUTH CAROLINA ON YOU
Back when C&F created The Thread -- has it really been a week? -- he intended it mostly to be a way to handle non-South Carolina stories on a daily basis. Alas, he has 43 preview items(!) he intends to complete by Aug. 25, meaning the number of other posts has to be seriously curtailed.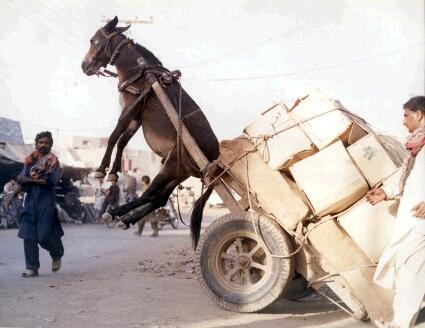 Overwhelmed? No, not at all.
So The Thread will be handling both for a while. This post is mostly to catch up on several South Carolina stories that have cropped in the past few days, the most ominous being a flare-up that has
Steve Spurrier threatening to leave the Gamecocks
. (HT:
Leftover Hot Dog
)
University of South Carolina coach Steve Spurrier said Sunday the school's administration has promised to make changes in the admissions process in the wake of two football recruits being denied admission.
And Spurrier raised the specter of his leaving if changes were not made, although he quickly added he hoped to be at USC for years to come.
"As long as I'm the coach here, we're going to take guys that qualify (academically under NCAA guidelines)," Spurrier said. "If not, than I'll have to go somewhere else because I can't tell a young man, 'You come to school here," he qualifies and not do that. And we did that this year."

Ouch.
C&F has never put much stock in outsiders who say, "Spurrier is frustrated with losing at South Carolina (or not winning enough) and would love to leave," because they seem to overlook the fact that Spurrier said when he came to USC that he wanted the challenge.
This, though, is something different. This is Spurrier apparently so frustrated over obstacles to getting the pieces he needs to South Carolina that he's willing to leave if the administration tells him he has to coach with one hand tied behind his back.
Spurrier's frustration -- and the reasons for it -- are even clearer in
Person's story on the subject
.
Speaking for 3½ minutes on the topic, Spurrier punctuated his points by jabbing his eyeglasses in the air. Though he carried a page of handwritten remarks to the microphone, he never referred to them. ...
"In my opinion, we made a mistake in doing this. I'm not criticizing the president. He said we're going to change how we do it. But for our credibility -- mine and the coaching staff -- I just want the high school coaches, the parents of players and all them to know -- that that's not going to happen here if I continue to be the coach," said Spurrier, who agreed to a contract extension last year that gave him a $500,000 raise and keeps him at USC through the 2012 season.
"I plan on being the coach here a long time. We can have a heckuva big-time college football program here at South Carolina if we want to do things the right way," Spurrier added. "Hopefully, and I truly believe this is the last year this is going to happen because I can't operate like that. I can't operate misleading young men."

The dispute here seems to key in on one thing: Spurrier doesn't want to have to explain to people that he recruited them, got them cleared by the NCAA, then hit a speed bump when it came to actual admissions. And it's not just embarassing to the program in the areas where it happens -- it's a nationwide embarassment when every other day brings reports that players are academically ineligible for South Carolina.
The first question that comes to mind is, if these recruits are being pursued by big-time programs (and they are), why are these players having a problem getting into USC that seems to go beyond what they would face elsewhere? Let's face it, and C&F says this while being a proud alumnus of the University of South Carolina: Our admissions standards have never been the most stringent in the country. And it's not as if Spurrier has a reputation for recruiting vagrants and vandals. So what gives?
No, USC should not sacrifice nascent changes in academic respectability to satisfy the demands of the athletics department. But this seems to go beyond that. And if it needs to be changed to keep Spurrier at South Carolina, the school needs to do it. He's trying to build a winner -- the right way. We might not get this chance again.
Elsewhere:
--The Lindsey twins are in trouble, Garcia and Richardson are back, Blake returns after being barred from practice for a day.
Got that?
Not that Blake's out of the woods yet. "Spurrier also declined to answer a question about Mitchell's leadership, but he said the situation has not affected his spot on the depth chart." Looks like Sorensen isn't the only guy HBC is upset with.
--Coaches
cracking down on players
. C&F loves it. Best part of Person's post: "Lawing, a veteran coach who had a previous stint at USC under Sparky Woods and Brad Scott, never went ballistic and kept the cursing to a minimum."
Labels: Blake Mitchell, coaches, contracts, eligibility, NCAA, quarterbacks, SEC, South Carolina, Steve Spurrier