THE SEASON AHEAD: WEEK 4 IS MURKY
It should be pointed out that once you reach about Week 4, it becomes much more difficult to figure out what will be the marquee matchups -- and even harder to decipher which ones will be televised. Conventional wisdom could be in tatters by this time, and television schedulers will wait until then to find out which games are worth televising. No one would have thought last August, for example, that Louisville at Rutgers would be a major turning point in the season.
Granted, it was a Thursday game, but it never would have made this preview last year as a must-watch.
Whoda thunk it?
That said, you will not see any wild-eyed projections from C&F. He will not in any way endorse the Temple-Bowling Green battle as a big game. In all likelihood, it will be a clunker. But just keep that in mind as you read the rest of the previews.
There is an interesting cross-section game on Thursday at 7:30 p.m., as
Texas A&M travels to Miami
for an ESPN telecast. At this point in the season, Dennis Franchione will have either proved nothing or have already made several resume-preparing trips to Kinko. The U will have already visited Oklahoma but still be trying to find out what it has.
On Saturday,
Penn State goes to Michigan
in a game where the time and possible TV alignment are unknown. The implications are unknown at this point as well, and might be known at least until after the game; Michigan will be a player in the conference race, but Penn State doesn't play another major game except a home tilt with Notre Dame before this one.
Georgia faces its third possibly difficult game in four weeks as it goes to Tuscaloosa for a between
the spelling-challenged Dawgs and the Crimson Tide
. Also TBA is
Arizona's journey to Cal
. Don't forget that the Golden Bears' meltdown against the Wildcats was the first sign that they were overblown as a threat to the Trojans.
As for scheduled games,
Michigan State's trip to Notre Dame
at 3:30 p.m. could always be interesting given the ability of the Spartans to confound expectations and the fact that both teams could be struggling. Head coach Mark Dantonio could get buzz, though, by knocking off the Irish in a nationally televised game on NBC.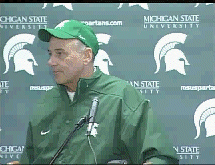 Don't slap yourself, Mark. It didn't make this guy look good.
The next interesting match-up is likely to be at 7 p.m., when
Kentucky visits the circus that is Arkansas
. The Wildcats will be looking to make a statement in their first SEC game, while Arkansas will still be trying to prove that the preseason chaos hasn't rendered them irrelevant.
At 8 p.m., the Gamecocks head to Baton Rouge as
South Carolina takes on LSU
. Most people -- C&F included -- expect LSU to win this game. But if the Gamecocks can keep it close, they unquestionably become a team to watch in the SEC East race, particularly if South Carolina defeats Georgia.
The only ABC Saturday Night Football game (8 p.m.) of real interest will be perpetually disappointing
Iowa's trip to Wisconsin
. It's the first conference game for either, so it could prove as a strength check for both.
Those are all the games that look interesting now. By mid-September, things could look very different.
Labels: ACC, Big East, Big Ten, Big XII, broadcasters, Pac-10, previews, SEC