THE SEASON AHEAD: WEEK 11 IS HOT
This, college football fan, is what has gotten through the last 10 weeks. This is why you've watched regional coverage of horrid afternoon games on ABC, the questionable noontime Big Ten match-ups on ESPN, the Thursday mid-majors game.
This is a week.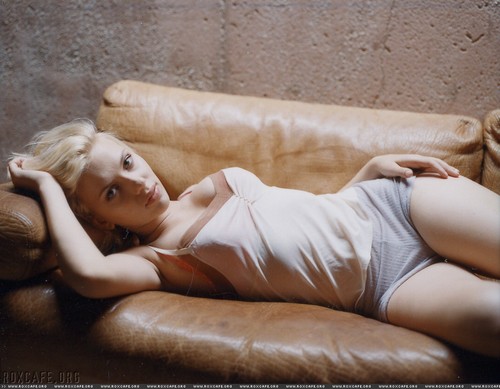 Scarlett:Week 11::Katie Holmes:Week 1
Where to begin? How about on Thursday night, when there are two games worth watching. The usual 7:30 p.m. ESPN Big East game is
No. 10 Louisville at No. 5 West Virginia
. The Mountaineers will be trying to avenge last year's 44-34 and, if they have beaten Rutgers in Week 9, all but lock up the conference championship.
The other Thursday tilt is
TCU at BYU
, televised on Versus at 9 p.m. This one could be for the Mountain West crown, so it's a mid-major game worth watching.
Then we get to Saturday. At 8 p.m., in a game that's a lock for ABC Saturday Night Football,
No. 1 Southern Cal travels to No. 12 Cal
for a game that will be one of the best chances for the Trojans to get knocked out of the NC race and a huge match-up in the Pac-10 race. At 11:05 p.m.,
Fresno State at No. 23 Hawaii
is probably worth watching if it's televised and nothing else is.
The unscheduled games make the rest of a great week.
No. 20 Arkansas comes to No. 17 Tennessee
in a conference tilt that could just as easily be between two top-flight teams or two middling ones. Here's the key question: Which of these coaches will run the ball more? C&F's money is on Nutt.
The South's oldest rivalry is also scheduled this week, as
No. 15 Auburn travels to No. 14 Georgia
with revenge on its mind. The 37-15 clobbering on the Plains last year was a strong repudiation of the Tigers' claim to have a part in the NC discussion. It also put a nail in the coffin of the Tigers' SEC hopes.
No. 7 Florida comes to No. 22 South Carolina
after two straight years when they either lost or should have lost to their former Head Ball Coach. Spurrier has said he wants to contend for an SEC crown in 2007, and the only way to do that is to at least be competitive in this game.
Across the state,
Wake Forest comes to Clemson
. Think that's not a good game? Then you've never seen Clemson and Wake Forest play. Even when they were the dregs of the league, Wake gave Baby Bowden's Tigers headaches. Oddly enough, the cow-tippers beat Wake 27-17 last year.
This is the week we play Wake? Excuse me while I cry.
But that's not the ACC's biggest game this week. No, that distinction goes to
No. 18 FSU's trip to No. 8 Virginia Tech
. The Seminoles and the Hokies are favorites to finish atop their respective divisions, making this a likely preview of the league's championship tilt.
The Big Ten also has a key battle, with
No. 3 Michigan traveling to No. 9 Wisconsin
for only the second true conference test, and the only one this year on the road. If the Wolverines are 10-0 at this point, defeating the Badgers will make them the heavy favorites when the Buckeyes come to Ann Arbor in Week 12.
And don't forget
No. 4 Texas hosting Texas Tech
, a not-insignificant game in the Big XII.
Labels: ACC, Big East, Big Ten, Big XII, broadcasters, coaches, Mountain West, Pac-10, previews, Scarlett Johansson, SEC, WAC