GAMECOCKS 2007: vs. KENTUCKY
C&F will admit that Rich Brooks might have proved him wrong. Brooks always looks confsued, bewildered, lost on the sideline. Maybe it's his age, perhaps it's his general demeanor, possibly it's that he really is confused. Or maybe it's just C&F.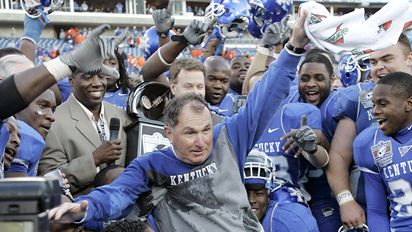 Why are these people carrying me?
But Brooks could just turn out to be the right man for the job at Kentucky. The Wildcats finished an almost-historic 8-5, with a 4-4 SEC mark good enough to tie for third in the division. They also beat
Florida
Georgia 24-20 and gave Tennessee heart palpitations (no small matter for Phil Fulmer) before falling 17-12 in Knoxville. (
Now, if Kentucky had actually beat the national champs, that would have been something. That's what C&F gets for writing previews at 12:30 a.m. Thanks to gatorhippy for pointing out the mistake.
)
This could be a breakout year for the boys from the Bluegrass State; many of the key pieces of last year's Cinderella team return. And C&F puts no stock in this "they can't sneak up on anybody this year" tripe; if you don't prepare for every game against an SEC team, you're an idiot.
OFFENSEO-line.
The Wildcats lose the right side of their line and center, but they keep the left side intact. Whether any of that is a good or a bad thing depends on what you think about last year's unit, which allowed 39 sacks.
ADVANTAGE: PUSHQuarterbacks.
Perhaps you've heard of Andre Woodson. You should have. The 6' 5", 230-pound gunslinger scorched secondaries across the league last year, including South Carolina's. He was 264-419 (that's 63 percent) for 3,515 yards, with 31 TDs against only 7 INTs -- a performance that would have gotten him at least mentioned for a truckload of awards were he at any school expect Kentucky. He might get at least a mention for some honors -- the Heisman? -- if his team catches fire this year.
ADVANTAGE: KENTUCKYWide receivers.
Of course, Woodson had help. Keenan Burton and Dicky Lyons might be the best returning tandem of WRs in the SEC. Burton pulled down 77 receptions for 1,036 yards and 12 TDs. Lyons caught 50 balls for 822 yards and nine scores. There's no reason to believe they won't be part of another impressive air attack.
ADVANTAGE: KENTUCKYRunning backs.
Like Cory Boyd, Rafael Little is a dual-threat running back. He rushed 140 times last year for 673 yards -- respectable if not spectacular -- and caught 31 passes for 392 yards. He scored a total of five times. Boyd is more of a threat to score. South Carolina backup Mike Davis has a step up on Kentucky's Tony Dixon.
ADVANTAGE: SOUTH CAROLINADEFENSEDefensive line.
Kentucky recently lost Nii Adjei Oninku
, who besides tying Verne Lundquist's tongue in knots was expected to start at end for the Wildcats. But Oninku wasn't a huge factor as a backup last year, so it's hard to tell how big a hit this will ultimately be. The two returning starters on the line were responsible for 13 TFL and 9 sacks.
ADVANTAGE: SOUTH CAROLINALinebackers.
All three members of the starting unit last season return, though Johnny Williams was listed below Sam Maxwell on the preseason depth chart. Weakside linebacker Wesley Woodyard was a machine, with 122 tackles, 9.5 for loss, a pair of sacks and a pick. Middle linebacker Braxton Kelley was second on last year's squad with 82 tackles, 4.5 of those for loss. Neither Williams nor Maxwell were game-changers. This is the slimmest of edges for the Gamecocks.
ADVANTAGE: SOUTH CAROLINASecondary.
Returning starters Marcus McClinton and Trevard Lindley combined for six interceptions last season. But opponents averaged almost 269 yards in the air last season. Unless that improves in 2007, South Carolina's pass coverage should be better than that by this point of the season.
ADVANTAGE: SOUTH CAROLINASPECIAL TEAMS
Lones Seiber returns to place-kicking duties despite hitting just 57.9 percent of his FG attempts last year. Tim Masthay averaged 39.2 yards a punt and had three kicks blocked. Keenan Burton gained 765 yards on 31 kickoff returns last year, with Little picking up 317 yards on 14 punt returns.
ADVANTAGE: PUSHCOACHING
Brooks has enjoyed success at Kentucky, at least last year, and elsewhere, but ultimately he's still a sub-.500 coach overall (108-139-4) and in Lexington (17-30). You have to wonder if he'll be able to sustain the success of 2006.
ADVANTAGE: SOUTH CAROLINARESULT
This is maybe the most frightening game on the schedule when it comes to "should" wins. Kentucky is a solid team, and last year's 24-17 result happened largely because, as Brooks pointed out afterward, South Carolina's trick play scored a touchdown while Kentucky's fell flat. The Wildcats should be better this year; then again, so should the Gamecocks. C&F would call this game a toss-up, but he's trying to avoid that in these previews. The game is in Columbia; that should be enough to tip the balance in the Gamecocks' favor.
PROBABLE WINTHE REST OF THEIR SEASON
The Wildcats start out with five games they should win -- Eastern Kentucky, Kent State, Florida Atlantic, Mississippi State and Vanderbilt -- and five teams they have at least a reasonable chance at, in C&F's estimation -- Louisville, Arkansas, South Carolina, Georgia and Tennessee. Games against LSU and Florida are probably losses. Bowl eligibility and a 6-6 campaign are likely, though 5-7 isn't out of the question. Going 7-5 will be difficult, given that the most winnable swing games (Arkansas, South Carolina and Georgia) are all on the road. A second-straight .500 season should be cause for celebration in Kentucky; anything more will be a solid accomplishment and will likely mean the 'Cats ruined someone's season.
Labels: coaches, Cory Boyd, defense, Heisman candidates, Kentucky, offensive line, previews, quarterbacks, receivers, running backs, SEC, South Carolina, Steve Spurrier