GAMECOCKS 2007: BEWARE PUNS ABOUT TWINS
The sportstainment storyline on the Gamecocks' defense, should it excel, was set to be twins. The Brinkley duo of Casper and Jasper (above) were set to lead the linebacking corps, while Dustin and Jordin Lindsey were projected to be backup MLB and starting DE, respectively.
You could almost read the headlines and hear the cutesy ESPN lead-ins. "It's raining twins." "Twice as nice for South Carolina." Etc.
That storyline has taken a bit of a hit recently, as the Lindsey twins are
on thin ice academically
. That would include Dustin, who's already flunked out once. (And our admissions standards are too high? Just what, exactly, constitute "standards" at the NCAA? "Show me your hand. Okay, you qualify.")
In any case, the Brinkley twins are nonetheless expected to play, and will be the tough core to what should be a strong Gamecocks defense. Between them, Casper and Jasper logged fully 30 percent of the team's tackles for loss last year and 38.7 percent of USC's sacks. Jasper not only lead the team with 107 tackles, he had more than twice as many as the next player. (Marvin Sapp, 51.)
From one end to the other, though, the defense
is expected to be good
. Real good. Not '92 Alabama good or '06 Florida good, but good all the same. That is key to an offense that, with Blake Mitchell at the helm, could be the football equivalent of devouring French fries drenched in mayo and heading for the nearest roller coaster. Possibly fun, or possibly an experience that will earn you a lifetime ban from Six Flags. By the way -- six-year-olds are loudmouths about things like that. Just saying.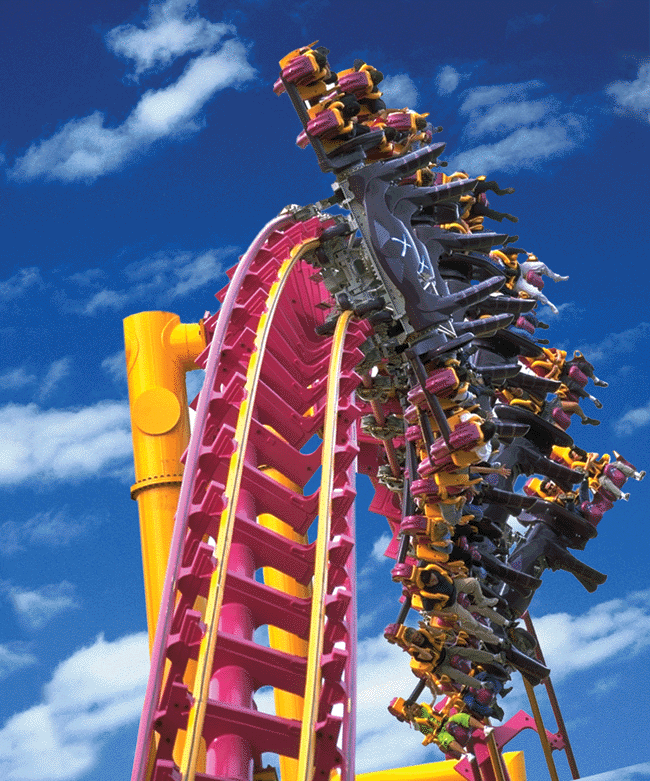 Skip the French fries. Trust C&F on this one.
The line, even sans J-Lindsey, includes promising young players like Eric Norwood and Ladi Ajiboye, a true freshman. CB Captain Munnerlyn, who grabbed two interceptions in limited playing time last year, should be a key part of the secondary, with CB Carlos Thomas lining up opposite Munnerlyn. Safeties Brandon Isaac and Emanuel Cook shared the spring most improved honors for their position.
Not that the fact that South Carolina's defense should be a top-notch unit this year should suprise anyone. Last season, they held opponents to an average of 18.7 points a game -- including surrendering just 19 at eventual national champion Florida. Sure, they gave up 146.8 yards a game on the ground, but limited opponents to just 190 yards through the air and had one more interception (14) than passing touchdowns allowed (13). They also held opponents to a 37 percent third-down conversion rate.
Inconsistency, though, hobbled the unit at times. Clemson scored 28, Arkansas scored 26 and Tennessee put up 31. None of those numbers are black marks when you look at the offenses involved and the sometimes bizarre bounces that went against South Carolina, but the standards change when you start talking about competing for conference crowns.
Meanwhile, defensive coordinator Tyrone Nix has always impressed C&F. It's something about his demeanor, the way he carries himself and (most of all) the huge difference once he began calling the shots part of the way through the 2005 season. How much longer before some other school snatches him up as a head coach? I don't know; ask Charlie Strong how easy it is for a black man to become a head coach in the NCAA by simply fielding quality defenses year in and year out.
I'm not dropping this until somebody gives him a job.
C&F is not sure that the defense is a make-or-break proposition for a successful season this year. But he does believe the difference between a good defense and a great defense could be the difference between a return to the Liberty Bowl and Spurrier's goal of contending for an SEC title.
If that happens, all the ESPN, Sports Illustrated and USA Today puns will be well worth it.
Labels: Blake Mitchell, bowls, Charlie Strong, coaches, conference championships, defense, Jasper Brinkley, media, previews, SEC, South Carolina, twins, Tyrone Nix