COOK'S GOOSE ... ER, COOKED?
Um, when did we become Miami?
Emanuel Cook was invited to jail by police who found him and a friend with a gun. The University of South Carolina
then invited him to leave campus
.
Cook, who is charged with unlawful possession of a pistol, was released from the Richland County jail on a personal recognizance bond this afternoon.
Under university policy, students found with a firearm in their possession are "summarily suspended" and are prohibited from taking classes or living in university housing, USC spokesman Russ McKinney said. ...
As the officers approached, Gore attempted to hide something inside a 1999 Ford Crown Victoria and would not comply with commands to show officers his hands, the report stated.
Cook told officers there was a gun inside the car. Police discovered a loaded magazine while frisking Gore and found a High Point .380 inside the glove box after Gore told officers of its location.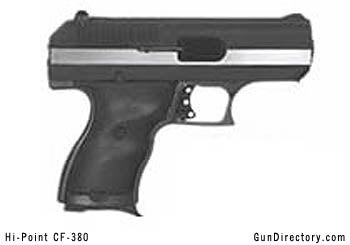 Aww, c'mon. That doesn't look dangerous.
Chris Hampton looks likely to step in here. In three fewer games, Cook had 11 more tackles and 2.0 TFL more than Hampton, who was the starter. Hampton, though, had 2 INTs to none for Cook.
UPDATE:
Spurrier voices support
for Cook, but doesn't threaten to leave. "He's a good young man and obviously was at the wrong place at the wrong time. You've got to choose your friends. Supposedly, the gun was not his (Cook's) but he was with a guy with a gun. You're guilty by association."
Labels: arrests and scandals, defense, SEC, South Carolina