PANDEMONIUM
Certainly Texas could take over No. 3 in the BCS if they kept winning. Or Auburn could come out ready to play the Michigan-Ohio State loser. Or maybe a Cal team that beat USC-West could make a credible case as a one-loss NC contender if they ran the table.
Um, then came Saturday?
Just to recap:
--
Texas lost to Kansas State, 45-42
.
--
Auburn lost to Georgia, 37-15
.
--
California fell to Arizona, 24-20
.
This is about to get messier than a day in the trial of Saddam Hussein.
I demand justice for Southern California.
So now we have the Ohio State-Michigan loser,
Texas
, Florida, USC-West,
Auburn
,
California
, Arkansas, Notre Dame, Wisconsin, Wake Forest and Louisville. Oh, and Rutgers is undefeated. As is Boise State.
Let the (wrong-headed) demands for a playoff begin. Let the on-air arguments begin. Let the debates rage.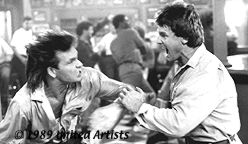 A debate over the BCS. Or a Miami practice. One of the two.
Ain't college football grand?