LINKERATION
As might be expected with this kind of a game, there is a massive amount of information out there to try to digest. Let's play linkeration!
--
Maisel sings the praises of the Michigan defense
, which is just scary, out-of-its-mind good. To quote Glen Mason: "They've got a defensive line that we'd all like to have. ... The linebackers are very athletic. The secondary is really good." So you find the weakness.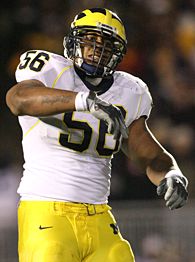 LaMarr Woodley: Can pretty much play defense single-handedly.
--
Forde notes that Troy Smith has owned -- owned -- the Wolverines
. No, until you read this stuff, you probably don't know just how bad it is. Unless your a Michigan fan. And, in that case, don't read this story.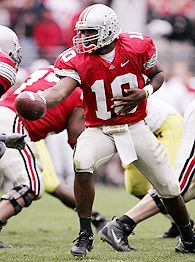 Michigan's worst nightmare since Tippy Dye.
--
Revsine notes that Michigan and Ohio have, in fact, gone to war
. He also points out that Ohio elections officials are -- and I presume he's not making this up -- delaying a recount by a day in order to avoid competing with the game.
Scrutinizing the Buckeyes' game plan. Democracy can wait.
--
Mgoblog does something called "analysis,"
breaking down items the experts call "Xs and Os." With pretty videos, too!
--
MZone clears up who is obsessed with whom
. Hint: It ain't his guys.
--
EDSBS gives us another update from Columbus
. You know it's bad when ... your future depends on the military muscle of the French.
--
A baby or football tickets?
No, it's not somebody selling a child for seats, oddly enough. It's the other way around. (HT:
EDSBS
)
--OSU Blog of the Day:
The Buckeye Expat
.
--Michigan Blog of the Day:
Blah Blah Blah
.