BREAKING NEWS YOU ALREADY KNEW: COKER FIRED
Shocking no one,
Larry Coker has been fired at the University of Miami
.
"We have suffered disappointments and tragedy off and on the field," Shalala said in a statement. "We can and will do better for our student-athletes and our community. ... We need a new start."
Shalala and Athletic Director Paul Dee said those disappointments including not winning a national title every year, not curing AIDS or cancer and failing to bring about world peace.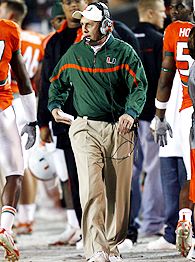 Couldn't meet his fan base's reasonable expectations.